To submit a new ticket you first need to click on "Submit a request" on the top right side of the page where you will be given two choices : "Technical support and issues" or "Product feedback"

Pick Technical support and issues and fill out the form with as many information as you can so the Support Team can answer you quickly and the best way possible.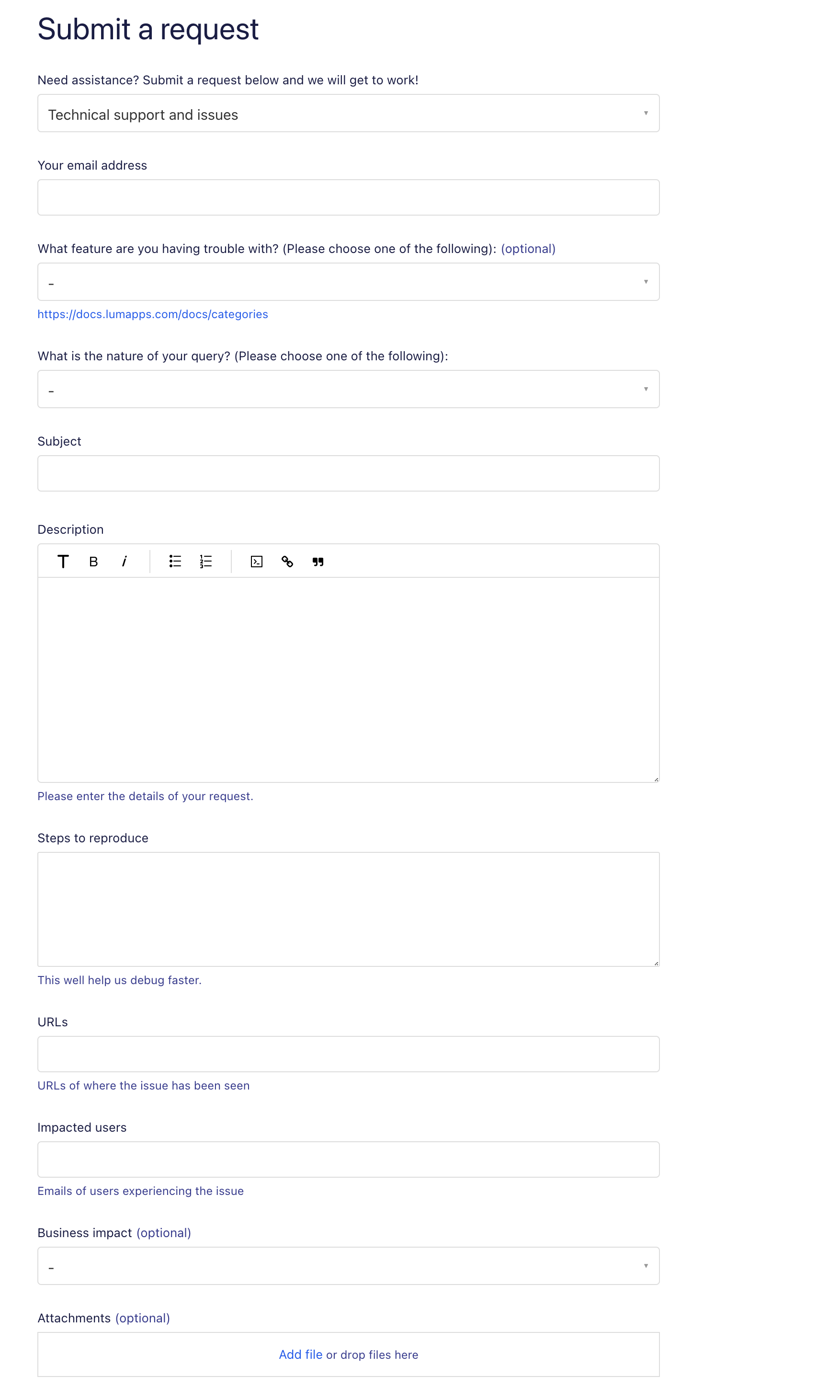 Your email address
To be manually written if you are not already logged in.
What feature are you having trouble with ?
Choose the feature or category that corresponds the best to your request/issue. This field is optional.
Analytics - LumApps and Google Analytics, Content Analytics, ...
Collaborative Suite Integration - Teams, Drive, Slack, ...
Communities - Community Visibility, Posts Management, ...
Content & Page Design - Content Layout, Cells, Rows ...
Employee Social Advocacy - Questions about Social Advocacy
Installation - Technical Account, Custom URL, ...
Login - Accessing LumApps
LumApps API & Toolbox - Questions about LumApps API and the Toolbox
Search - Global Search, Content Filter Search, ...
Notifications - Workflow Notifications, Email/Bell Notifications, ...
Platform/Site Administration - Platform/Site Settings, Administrators, Site Language Settings, ...
Synchronisation (users/groups) - Questions about synchronisations
User Directory & User Profile - User Management, User Settings, Organization Chart, ...
What is the nature of your query ?
You can specify here if your ticket is a question, an issue or something else.
Subject
This is the title of your ticket. Please use clear and concise keywords to sum up the subject in a short sentence.
Description
Please provide as many details as possible so the Support Team can answer you quickly.
Steps to reproduce
This mainly concerns issue report. A step-by-step tutorial to reproduce the issue can help us debug faster.
URLs
Provide full URL(s) of the page(s) concerned by what you are describing.
Example : https://sites.lumapps.com/a/platform-slug/site-slug/page-slug
Impacted users
Provide the email address of the user(s) impacted by what you are describing.
Business impact
Specify the impact on your business of what you are reporting
Critical - severe outage/downtime ; Example : I cannot access to my platform anymore.
Major - a major functionality has stopped working ; Example : I cannot access/upload media anymore via the LumApps Library.
Moderate - Functionality impaired/workaround available ; Example : The text format in an HTML widget cannot be natively modified but it can be with the "Code view" mode.
Minor - Issue with the setup ; Example : The issue is small such as "Drag-and-drop" function not working or related to a wrong setup.
Attachments
Add screenshot(s), screencast(s) or any file that could help us analyze your request.